Committee Description
The Arctic Council is an intergovernmental forum composed of Arctic bordering countries, (Canada, Denmark, Finland, Iceland, Norway, Russia, Sweden, and the United States), the Arctics indigenous peoples as permanent representatives as well as observer states (France, Germany, Italy, Japan, the Netherlands, China, Poland, India, Korea, Singapore, Spain, Switzerland, and the United Kingdom). Promoting cooperation and dialogue between member states is the Arctic Council's main goal and has led to the negotiation of three legally binding agreements in the past (strengthening international cooperation on issues of search and rescue at sea, marine oil pollution, and scientific cooperation in the Arctic). At KAMUN, delegates will discuss ways to ensure a sustainable use of the Arctic Marine Environment, an urgent issue, as the region belongs to those most impacted by climate change. With the ice cover of the Arctic decreasing however, new trade routes are being revealed and offer new opportunities for commercial use and economic exploitation of the Arctic Sea, as well as the potential for a militarization of the Artic Zone. Beginning commercial usage of these new routes may well cause lasting damage to the fragile ecosystem as well as the inhabitants of the Arctic. While first steps towards a more sustainable use of the Arctic have been achieved through the Polar Code negotiated in working groups of the IMO, the need for more comprehensive and far-reaching legislation to protect the Arctic marine environment remains evident.
Topic | Use of Arctic
Chairs
Charlotte Stange
Chair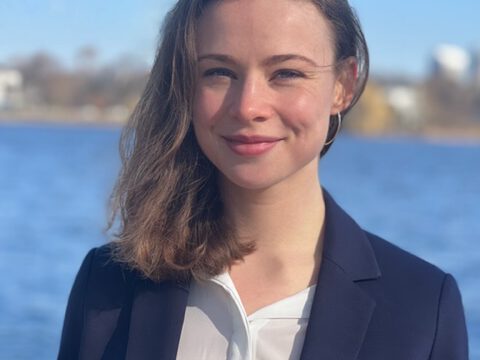 Leah Mathiesen
Chair
Hello everyone!
I'm Charlotte Stange. I am a law student based in Hamburg, Germany with a keen interest in international tax law.
Apart from my academic studies, I have been spending my time within the MUN circuit since
2019 and am pursuing my sailing license at the moment. Safe to say I am looking forward to
navigating Arctic waters during KAMUN 2022 with my co-chair and delegates!
Hello!
I'm Leah, a 25-year-old German-American currently studying law at the University of
Hamburg, focusing on International and European law. My involvement with the MUN
world started in my first semester at the HanseMUN society in 2017 and then continued
with attending numerous conferences as a delegate, chair, and secretariat member. Besides
working, studying and doing MUN, I like to spend my time with sports, reading and of
course, typical for MUNers, traveling. I am excited to meet you all in Karlsruhe for another
amazing edition of KAMUN!