Intermediate
Find an overview over all committees and their levels here.
Committee Description
The Economic and Social Council of the United Nations (ECOSOC) is one of the six main organs of the UN established by the UN Charter in 1946. It is the principal body of the UN for coordination, dialogue and solutions for issues concerning economic, social and environmental issues, and for implementation of globally agreed development goals. It also supervises the subsidiary and expert bodies in the fields mentioned above. The ECOSOC features 54 voting member states, including 14 African states, 11 Asian states, 6 Eastern European states, 10 Latin American and Caribbean states and 13 states of Western Europe and other states. The ECOSOC is the parent organ for eight functional commissions, five regional commissions, three standing committees, nine expert bodies and five other bodies.
Topic | Combatting the socio-economic fallout following COVID-19 in developing countries
Quoting the UN's Framework for the Immediate Socio-Economic Response to the COVID 19 Crisis : "The COVID-19 pandemic is far more than a health crisis: it is affecting societies and econ­omies at their core. While the impact of the pandemic will vary from country to country, it will most likely increase poverty and inequalities at a global scale, making achievement of SDGs even more urgent.

Assessing the impacts of the COVID-19 crisis on societies, economies and vulnerable groups is fundamental to inform and tailor the responses of governments and partners to recover from the crisis and ensure that no one is left behind in this effort.

Without urgent socio-eco­nomic responses, global suffering will escalate, jeopardizing lives and livelihoods for years to come. Immediate development responses in this crisis must be undertaken with an eye to the future. Development trajectories in the long-term will be affected by the choices coun­tries make now and the support they receive."

The United Nations has mobilized the full capacity of the UN system through its 131 country teams serving 162 countries and territories, to support national authorities in developing public health preparedness and response plans to the COVID-19 crisis.

Over the next 12 to 18 months, the socio-economic response will be one of one of three critical components of the UN's COVID-19 response, alongside the health response, led by WHO, and the Global Humanitarian Response Plan.

In this years ECOSOC, you will have the chance to convince the global stage of your country's stance on how to approach the unprecedented socio-economic challenges developing countries are facing due to the COVID-19 pandemic.
Chairs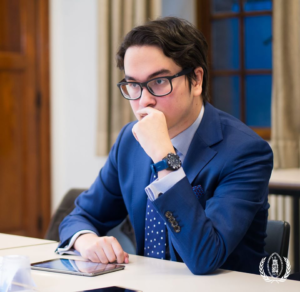 Stijn Servaes
Chair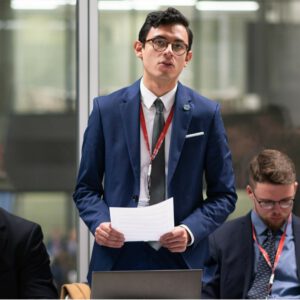 Juan Poveda
Chair
Stijn Servaes is currently studying for a degree in Applied Economic Sciences: Business Engineering at the KULeuven. Being very interested in International Affairs and Business/Economics in high school, Stijn decided to apply for a MUN conference in his first year at his university – a decision he has never regretted since.
The conference had such a huge impact on him that it became one of his main hobbies for the past 4 years, making him a delegate and chair at several conferences around Europe.
Besides that, Stijn has a large interest in (military) history of the past 4 centuries, and enjoys spending his free time watching documentaries, reading about historical events, etc.
"I look forward to chairing ECOSOC in the beautiful city of Karlsruhe!"
Hi! I am Juan Poveda. I come from Ecuador and am about to begin my 5th semester of International Relations at the Karlshochschule International University. I've been participating as a delegate in different MUN's since 2014, am particulary interested in diplomacy, conflict resolution and Latin American affairs. I love to travel, meet new people and learn from them, preferably enjoying a beer and a wine from time to time. I am looking forward to work on international organizations who work with developing countries.

I am especially grateful and happy to be chairing ECOSOC this year, and make my contribution to turn KAMUN X into a worthy memory for you all! Cheers!